We're ready to show you what good old-fashioned customer service really means! Let's start a conversation about how we can solve problems specific to your business. We're happy to answer all your questions. Feel free to contact us by phone or email and we will be sure to get back to you as soon as possible.
Frequently Asked Questions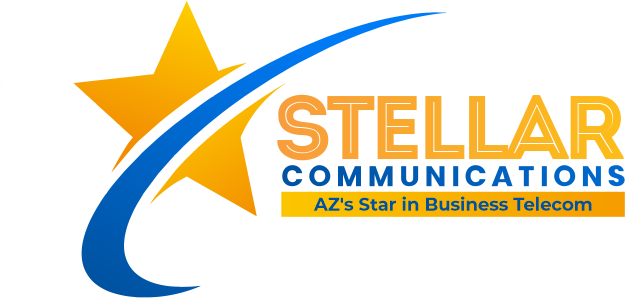 Below you'll find answers to the most common questions you may have about us, our products and services. If you still can't find the answer you're looking for, just call us at (602) 993-3545. Also, please feel free to check out our blog for more information and insights.
We have 35+ years experience in this field. Stellar Communications was founded in 1999 and we have proudly served hundreds of customers in many types of industries in Arizona, as well as some customers throughout the United States.
We are a licensed commercial contractor with the Arizona Registrar of Contractors, AZ ROC License #284085. Our license classification is Specialty Dual CR-67 Low Voltage Communications Systems. This classification allows the scopes of work permitted by the commercial C-67 Low Voltage Communications Systems and the residential R-67 Low Voltage Communications Systems licenses. We are also bonded and insured.
We are an accredited business with the Better Business Bureau and have an A+ BBB rating.
We are an authorized Vertical Communications Dealer. We are an authorized Host My SIP Dealer. We are an authorized Reolink Business Partner.
We serve and have served many industries including:
Accountants
Advertising/public relations
Aerospace
Agribusiness/agriculture
Amusement parks
Architectural services
Attorneys/Law firms
Automobile dealers
Automobile repair
Banking, mortgage
Banks, commercial, savings & loans
Bars & restaurants
Beauty, salons & spas
Builders/general contractors
Builders/residential
Building materials & equipment
Business services
Chiropractors
Civil servants/public officials
Churches, clergy & religious organizations
Colleges, universities & schools
Computer services
Computer software
Construction
Construction services
Dentists
Driving schools
Doctors & other health professionals
Education
Electronics, manufacturing & equipment
Electricians
Finance
Food & beverage
Food stores & grocery
Foundations, philanthropists & non-profits
Funeral services
Golf clubs & resorts
Government & municipalities
Health, health professionals
Home builders
Hospitals & nursing homes
Hotels, motels & tourism
Insurance
Manufacturing & distributing
Medical supplies
Plumbers
Printing & publishing
Prisons
Title companies
Real estate
Retail sales
Stock brokers & investments
Waste management & recycling
We serve businesses throughout the state of Arizona and have also traveled out of state for customers. Some of the geographic areas and cities we serve include:
Phoenix Metropolitan Area/Maricopa County
Phoenix
Apache Junction
Avondale
Buckeye
Carefree
Cave Creek
Chandler
El Mirage
Fountain Hills
Gila Bend
Gilbert
Glendale
Goodyear
Guadalupe
Litchfield Park
Mesa
New River
Paradise Valley
Peoria
Queen Creek
Scottsdale
Sun City
Sun City West
Sun Lakes
Surprise
Tempe
Tolleson
Wickenburg
Youngtown
Pinal County
Ak-Chin Indian Community/Maricopa
Apache Junction
Arizona City
Casa Grande
Coolidge
Eloy
Florence
Gila River Indian Community/Sacaton
Gold Canyon
Kearny
Mammoth
Marana
Oracle
San Manuel
San Tan Valley
Superior
Pima County
Tucson and surrounding areas
Yavapai County
Prescott and surrounding areas
Coconino County
Flagstaff and surrounding areas
Yes, we have 24/7 technical support & response. Call us at (602) 993-3545 anytime to reach our on-call support team. We will work to remedy the issue when it arises and get your business back up and running as soon as possible. If the problem is simple enough, we may be able to talk you through the solution over the phone. If the problem or solution is too hard to communicate, we may utilize computer screen sharing and show you the solution in real time. To diagnose and fix the problem we may use remote access to the phone system or computer which allows us to look at the problem from the inside out. Some emergencies are too complex to be fixed over the phone or remotely and we will dispatch a technician. If the problem is hardware-related, you will need a technician to come directly to your location and fix the issue in-person. For more information on our 24/7 technical support and response service, visit our services webpage.
No, we never charge a fee to discuss your needs and solutions. Consultations and quotes are always free with no obligation. We can conduct consultations over the phone or meet with you in-person at your convenience. We also provide site surveys at your location at no charge. To request a quote, give us as call at (602) 993-3545 or use our email contact form.
Yes, we serve home-based businesses and provide support and solutions for employees to work offsite. It is becoming more common for businesses to operate from home or for employees to work remotely. Because of advances in communication technology, teleworking has become an accepted practice. Stellar Communications is on top of this trend and on the cutting edge of technology. We have the products and expertise to make your business a success regardless of where you do business.
Yes, comprehensive onsite training for your staff is included with every phone system purchase at no additional charge to you. We believe onsite end-user training is one of the most important components necessary to successfully utilize your new phone system. This is why we invest so much time and energy into our onsite end-user training. At your convenience we will schedule training sessions with a personable, knowledgeable and articulate systems trainer/technician to give your team a great onboarding experience. We also provide free training and support for your staff over the phone when they are beginning to use your new phone system and questions or issues arise. If you have your own team of IT professionals, we will coordinate with them to make sure they have the information and technical support they need to ensure seamless integration of our phone system with your computer network.    
Yes, we have a referral reward program! The referral of your friends and business acquaintances is one of the best compliments you can give us. We appreciate your trust in us and your referrals are in good hands. We want to reward you for your confidence in us with $100 cash not only for you, but also for the businesses you refer after they complete their first transaction with us! You will get $100 and your referred friend will receive a $100 discount off their first purchase. To join our referral program and begin earning rewards, simply sign up here for a referral link for you to share and we will take care of the rest.
PBX stands for Private Branch Exchange System, which is a private telephone network used within a company or organization. Users of the PBX system can communicate internally within their company and externally with the outside world using different communication channels like Voice over Internet Procol (VoIP), ISDN or analog. A PBX also allows you to have more phones than physical phone lines and allows free calls between users. Additionally, it provides features like transfer calls, voicemail, voicemail to email, call recording, interactive voice menus (IVRs) and call queues.
A PBX often includes:
Cabinets, closets, vaults and other housings
Console or switchboard allows the operator to control incoming calls
Interconnecting wires or cables
Logic cards, switching and control cards, power cards and related devices that facilitate PBX operation
Microcontroller or microcomputer for arbitrary data processing, control and logic
Outside teleco trunks that deliver signals to and carry them from the PBX
Stations or telephone sets, sometimes called lines
An internal switching network
Uninterruptible power supply (UPS) consisting of sensors, power switches and batteries
IP (internet protocol) PBX systems give businesses greater flexibility by connecting phone numbers over the internet, potentially allowing employees to dial in remotely as well as providing additional features such as messaging and video conference calls. IP PBX phone systems use a process called SIP trunking (session initiation protocol). SIP is an application layer that enables you to run a phone service over your office network and connect phone systems over the Internet. For more information on these types of phone systems, visit our PBX and VoIP/SIP product webpage.
A hosted PBX is essentially a cloud-based phone system as it is hosted offsite and over the Internet rather than at the physical location of the business, resulting in cost savings and limited maintenance. As a hosted PBX is managed completely offsite, this eliminates the need to invest in software, hardware, training and day to day maintenance. There is little in the way of installation costs. There is no hardware at your location. The router/firewall is programmed to allow certain public IP addresses to connect to the phone system through the Internet. Cloud hosted SIP trunks provide clear conversations and use a minimal amount of bandwidth. For more information on cloud hosted SIP trunks, visit our webpage.
We sell and install dual-lens cameras, 4G battery-powered cameras, PoE IP cameras, WiFi battery-powered cameras, WiFi wired cameras and security NVR camera systems. For more information, visit our Surveillance Camera Systems webpage.
Yes, we work with many manufacturers' WiFi systems.
Yes, we can install the cabling for a new office build out or modify any existing cable infrastructure as well. We also can trace cabling, connect lines to your phone/computer system and test Internet lines.
Yes, we provide adds/moves/changes on existing phone systems as well as troubleshooting and programming.
Yes, we assist with configuration, installation and set up of printers and fax machines. We will also help troubleshoot connectivity or driver issues associated with network or directly attached printers/faxes. We do not change toner or ink cartridges, clean print heads or repair broken printers/faxes.
We charge $100 per hour (1-hour minimum) for service calls plus a $35 trip charge for locations within Maricopa County or a $70 trip charge for locations outside Maricopa County. Charges for locations out of state to be determined on a case by case basis.
Yes, we can program routers and switches and perform computer networking services.
Yes, once you have provided us with remote access to your computer system. We charge $50 per 30-minute increment (30-minute minimum).
For more information on our services
Refer friends & colleagues, earn $100!
Refer a friend to use Stellar Communications. If they do we'll reward you with $100. Plus, your friend will also get a $100 discount. It's a win-win!
When you refer someone to Stellar Communications, they will receive a $100 discount on their first purchase from us. After their first completed transaction with us, you will receive $100 cash.
Complete our referral form and we will take care of the rest.
Your friend gets a $100 discount on their first purchase from Stellar Communications.
You earn $100 after your friend completes their first transaction with us.
Complete referral form to get started
There are no limits as to how many friends you can refer. 
The more you refer, the more you earn!