If you assume that telephone systems lag behind the time and cannot do more than receive and make the phone calls, you are wrong because times have changed, and so has evolved the telephone sector.
Low-Cost Cloud Technology has been on the scene for quite a time now, and because of the same, most complex functionalities are made available at lower costs than earlier.
A phone system has now come up with several functions such as call forwarding facilities, automated menus with efficient incoming and outgoing calls, etc. Before we dig deeper and know the benefits of VoIP Phone Systems, let us find out what VoIP Phone System is.
What is VoIP Phone System?
VoIP switches your analog audio impulses to digital signals, which are subsequently sent over your broadband internet connection as data packages. In essence, it combines all of the functions of a phone with the convenience of the internet.
Types of VoIP
#1 Vertical Summit 100
Summit 100 links analog and digital phones and next-generation IP technologies, offering a hybrid communications system.
The simplified UC system lowers expenses by merging all of your communications capabilities into a single platform, including real-time voice, video, and presence-enabled instant messaging under a unified interface on any device.
Your staff may operate from any device, using any technology, using Summit 100. Analog interfaces, built-in VoIP, virtual machine capacity, and emergency alarm, relay, and paging facilities are standard.
#2 Vertical Summit 800
One IP port, five regular Summit Unified Communications Solution (UCS) Desktop Client with Voice softphone licenses, and five Summit UCS Mobile Client licenses are included with the Vertical Summit 800 system.
The Summit is designed on a cross framework that allows sorts of basic system units and one expansion unit to be combined to create a dynamic system that provides small to medium-sized organizations with budget connectivity and scalability.
#3 Vertical Wave IP 500
Unlike some of the other systems that help IP implementations but require additional hardware and software (at additional costs), the vertical Wave IP 500 and 2500 come with embedded telephony and fully functional UC capacity, such as partnership, visibility management, and integrated mobility applications, that are simple to use and implement.
With a single base user license included with every Wave IP system, all native Wave IP 500 and 2500 UC applications are available at no additional cost and are ready to use right away.
Now, let us explore some benefits of VoIP Phone Systems and other related devices.
a. Seamless Integration and Installation Process
A technical implementation might take up an ample amount of time as well as money, and hence most business organizations rather avoid the whole sluggish as well as lengthy procedures.
But for your information, let us tell you how easy and seamless it is to install a VoIP phone system.
It is simply plug and play that lets you have the easiest technical access and make phone calls in a go. In short, you will be benefited from all the functionalities.
b. Lower Costs in the Market
Well, to be direct, businesses initially have to spend an immense amount of costs for installing phone services or PBX Hardware.
PBX Hardware or Private Branch Exchange is a physical hardware product that will help to connect all the phone lines that lead to money spending without a limit. Now the situation might arise that analog phones have the same costs as IP phones. This is actually a misunderstanding and IP phones don't cost more than 600$- 2100$ per user. This can be beneficial for both small-scale and large-scale firms.
c. Cut off Extra Wiring Charges with VoIP
Because VoIP connections permit both calls and data on the very same channel, internet connections eliminate the need for further wiring.
Filled to the brim is the correct term in IT and telecom circles.
It's the capacity to simultaneously transmit and receive voice and data.
Most VoIP desk phones just necessitate one Ethernet connection.
Offices will be much more modular with their office employees thanks to Power over Ethernet (PoE).
Furthermore, the electrical wiring in such offices will not need to be modified. It can  supports up to 74 phone lines (SIP, PRI/T-1, or analog) and 140 extensions all together.
d. Better and Clear Voice Quality
Days are gone when you had to fix the connection repeatedly to get the clearer voice snd interruptions including disconnections and disturbances. Now what you and your employees will hear is a sharp and water-like clear sound to ease your business in the best way possible.
The main reason behind this quality check is nothing but a better bandwidth which help you to get rid of delayed connections and extreme level of background noises.
e. Improved Security
Fraudulent calls have not only wasted an immense amount of time for the businesses around but many people have landed into the pool of trouble and scams.
VoIP can help to avoid such security risks by utilising IP technological developments such as encrypted data and improved identity authentication. Hosted VoIP services defend their systems all around clock so you don't have to.
Now let us explore the services of Stellar Communication with their benefits.
Services- Stellar Communications
Cloud-Based Services
a.    Cloud Hosted Fax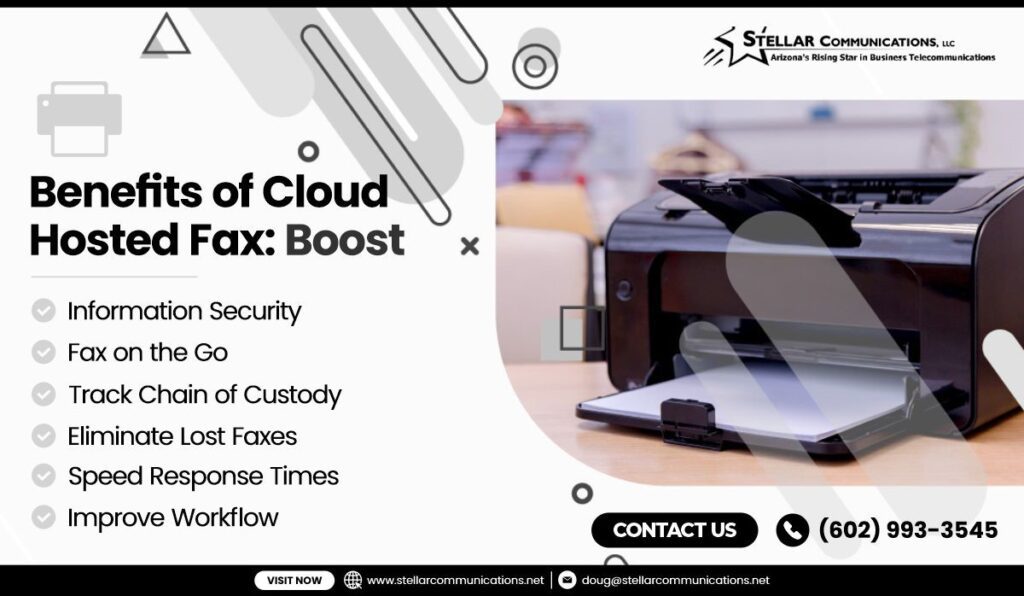 Stationary fax machines are no longer used. You need a more flexible faxing solution today that can keep up with the needs of an increasingly mobile, all-digital environment. The solution is our Cloud Hosted Fax service in Arizona. Traditional fax machine functionality is combined with the flexibility, cost savings, and advanced capabilities of a modern cloud service in Hosted Fax.
Benefits:
There are no upfront hardware or software expenditures.
Upgrades and enhancements are free of charge.
Scales with your business as it grows
Subscription-based pricing that is predictable
b.    Cloud Hosted Phone Systems
Cloud Hosted Phone Systems in Arizona, The best-in-class UCaaS solution for the cloud environment is iPECS Cloud. On top of Ericsson-LG Enterprise's established technology for leading business communications, iPECS Cloud provides agility, flexibility, and simplicity.
Future-proof your systems with scalable cloud solutions that allow your employees to operate from anywhere, regardless of the size of your company.
Features:
Auto-attendant, Voice mail, Call recording
Powerful telephony features
Audio conference bridge, WebFAX
Intelligent call analytics and reporting
Rest APIs for interworking with 3rd party applications
Easy operation and maintenance through the multi-tier management tool
Auto provision and resource
VMware and OpenStack supported
c.   Phone System Sales and Installation Services
We are a Vertical and Host My SIP approved dealer, and we offer a comprehensive range of phone system products to fulfill the needs of small to large enterprises, including PBX, VoIP/SIP, and Cloud Hosted Phone Systems.
You will not come across "slick salespeople" that are only interested in their commissions when working with Stellar Communications (The top largest Phoenix-Area Business Telephone Company). Only a certified expert can determine what your company needs and recommend solutions based on their years of experience installing and maintaining these systems.
d.    Phone Messaging Voiceover Talent
Our female voiceover artist has worked as a radio announcer in the past.
Our talent will record messages remotely and directly to your new or current phone system using a script you give. A recorded audio prompt follows your scripted phone greeting, directing callers to the appropriate department or extension on your phone system.
Large businesses frequently require these to ensure that consumers are routed to the appropriate department. A voice prompt is similar to an answering machine message in that it merely requests the caller to perform a particular activity.
These prompts are used by phone systems to get the caller to touch a key on their phone.
When a consumer is placed on hold, a message on-hold recording, created from your script, plays one or more messages.
e.   Commercial structured cabling
The backbone of your network is commercial structured cabling. Your network runs smoothly because of the integrated cables, hardware, and equipment system. The tools you need to run your organization are supported by structured cabling.
The following are some examples of typical applications:
Datacenter management Telephones
Systems for audio and video conferencing
Intercom and paging systems
WiFi
Systems for presenting multimedia content
Devices for video surveillance Camera Systems
Contact Stellar Communications today for our services to discuss a customized lease arrangement for your company. Select from a choice of lease terms to meet your specific requirements. We'll present you with several options so you can make an informed selection.